Nonella-Young Team

REALTOR

in Santa Rosa, CA
Associate Information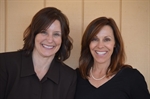 Professional Designations
REALTOR (S)
Expertise Types
Condominiums, Farms, Land, Residential, Single Family Homes, Townhomes, Vineyards
With the Nonella-Young Team you will be supported through your real estate transaction with two dedicated, motivated, and well-versed agents.
A team approach allow us the opportunity to reach out to an expansive, well-established network in order to best market and/or locate property for you. Deep connection to community facilitates our knowledge of currently offered listings, and affords us insight into properties coming on the market.
Our families have homesteaded, owned vineyards, businesses, farms, been active on school boards, 4H, and resided in Sonoma County since the 1800s.
The Nonella-Young Team has a depth of knowledge of Sonoma County, a commitment to caring for our clients, and a desire to assist you in achieving your real estate goals. Located in the heart of Wine Country we are surrounded by wineries, restaurants, hiking, biking, kayaking, art galleries and, of course, access to the famed Sonoma County Coast.
Please call us with your real estate questions and needs.